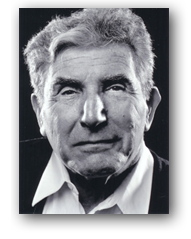 In the year that king Uzziah died I saw also the LORD sitting upon a throne, high and lifted up, and his train filled the temple.
In the last year of Art Katz' life, one of the few passages of that he ministered on multiple times was Isaiah Chapter 6. His emphasis was always upon apostolic sending, as in Isaiah's cry, "Here I am, send me!", but there was always mention of the crisis that was the catalyst for Isaiah's encounter with the Lord. That crisis would be the death of King Uzziah.
I believe that Art was aware that to some of us, he was as one who was sent from the throne of heaven, and, as such, ran the risk of being given a place of honor in our lives that was beyond that of the One who sent him. Personally, I cannot think of a single individual in our time who has impacted my Christian walk more than Art Katz. [For honor's sake, I should, once again mention Annette Marsnik and Jewell Courtney, who sold everything they had to start an informal Bible School/Christian Community where I lived for two and a half years.] This morning while perusing some pictures that Art's wife Inger posted on the family web site, I ran across the photo of Art's grave stone and realized that today is officially one day over a year since Art went on to receive his reward. And so the wondering began: Did I encounter the Lord in a greater measure this year that could constitute a basis for the kind of "sending" that Isaiah received?
That begs the question: Did I hold Art Katz in a place above that which the Lord deemed appropriate? If I did then certainly I wouldn't have the vision or ability to discern it. So that consideration will itself have to be committed in the Lord's hands. And perhaps the Lord Himself dealt with it when He kept me from going to Ben Israel in 1985 when I pleaded with Him in prayer and fasting to let me be a part of what was going on there. Or the second time when Art was kept from coming to my Church in January of 2006 due to the onset of his illness. [I said more about that last year in this blog in "How God Used Art Katz in My Life".]
I'll leave that question alone, but I would like to ponder the nature of Isaiah's sending and the message he was told to give. Preceding Isaiah's sending he received a revelation of the Lord's holiness and his own uncleanness. He saw the angels crying "Holy, Holy, Holy! The whole earth is filled with His Glory!" Here he is, perhaps lamenting the death of Uzziah, when the glory of the LORD is in fact filling the earth and not being spoken of by men. Something else is coming out of our lips, but not the right confession of "Holy, Holy, Holy!" No wonder he exclaimed: "I am a man of unclean lips amidst a people of unclean lips..."
Then one of the seraphs flew to me with a live coal in his hand, which he had taken with tongs from the altar. With it he touched my mouth and said, "See, THIS has touched your lips; your guilt is taken away and your sin atoned for."
I believe that this was a coal off of the altar of the eternal sacrifice of the Lord Jesus Himself. Even though in history, Isaiah's life preceded Jesus, his vision was a glimpse into the eternal, much like Moses when he saw the pattern which was in heaven and constructed the tabernacle based on what he saw there. A coal off that perfect altar: "THIS has touched thy lips." After this Isaiah has a different confession. He is in agreement with God's assessment of the situation. He has seen the Lamb upon His throne.
And Isaiah overhears an eternal question that is always being asked: "Whom shall I send? Who will go for us (note the plural)?" There seems to be an element of willingness rolled into the issue of sending, as if it were critical for the sent one to be a volunteer, not just a hireling. Isaiah does not seem to hesitate with his "Here I am, send me," and neither does God with His response, "Go and tell this people..."
The message that God gives to Isaiah is further evidence that what Isaiah saw was something of the eternal horrendous sacrifice of the Lord Jesus, because Isaiah does not argue with it. Listen to what God asked him to say:
"Go and tell this people:

'Be ever hearing, but never understanding;
be ever seeing, but never perceiving.

Make the heart of this people calloused;
make their ears dull
and close their eyes.
Otherwise they might see with their eyes,
hear with their ears,
understand with their hearts,
and turn and be healed.'"
Not a whimper from Isaiah. However, knowing God's promise to establish His kingdom in Israel, Isaiah does ask an appropriate question: "How long O Lord?"
The answer is even more devastating:
"Until the cities lie ruined
and without inhabitant,
until the houses are left deserted
and the fields ruined and ravaged,

until the LORD has sent everyone far away
and the land is utterly forsaken.

And though a tenth remains in the land,
it will again be laid waste.
But as the terebinth and oak
leave stumps when they are cut down,
so the holy seed will be the stump in the land."
Isaiah's vision in chapter 6 was certainly a precursor to chapter 53's "Who hath believed our report? and to whom is the arm of the LORD revealed?" He has been asked to proclaim a message that no one wants to hear at first. And he must wait for the Lord to do the work in the hearts of men. There are no accolades or "Thank you's" from the hearers. The messenger himself becomes despised and rejected. And yet it is that rejection that leads to the greater vision of chapter 53 and beyond when the Kingdom IS restored.
So to answer my initial question: Did I encounter the Lord in a greater measure this year that could constitute a basis for the kind of "sending" that Isaiah received? That I cannot answer for certain. There has been no seeing with the eyes. But perhaps there has been a greater measure of clarity, an increased ability to articulate what is transpiring in the heart and a keener realization that it must be the Lord that sends.  Knowing that He is our exceeding great reward is not optional, because the  reward we receive from those to whom we are sent just might be the same reward Jesus and the prophets received.